DESCRIPTION

THE SWITCH can save hours of frustrating labor yet often requires less than one hour to install. THE SWITCH system consists of one or more tiny radio transmitters and a control box containing a radio receiver and power control circuitry.

The control box and its associated transmitters are internally set to any one of 512 different codes. A transmitter, when activated, repeatedly broadcasts a nine position tristate word. The control box responds when a complete word corresponding to its code settings has been received. This encoding allows many systems and their associated transmitters to operate in close proximity without interference and also eliminates the possibility of false triggering by RF noise from pulsed lasers, spark gaps, or any other noisy laboratory equipment.

Additionally, the unique latching design in the control circuitry also eliminates false triggering, either off or on, in the event of power failures, momentary interruptions, or surges. The control box is easily mounted to a wall and connected to existing single or multi way circuitry. An illuminated, sealed, pushbutton membrane switch on the front of the box functions as an additional wall switch which is easy to find in the dark.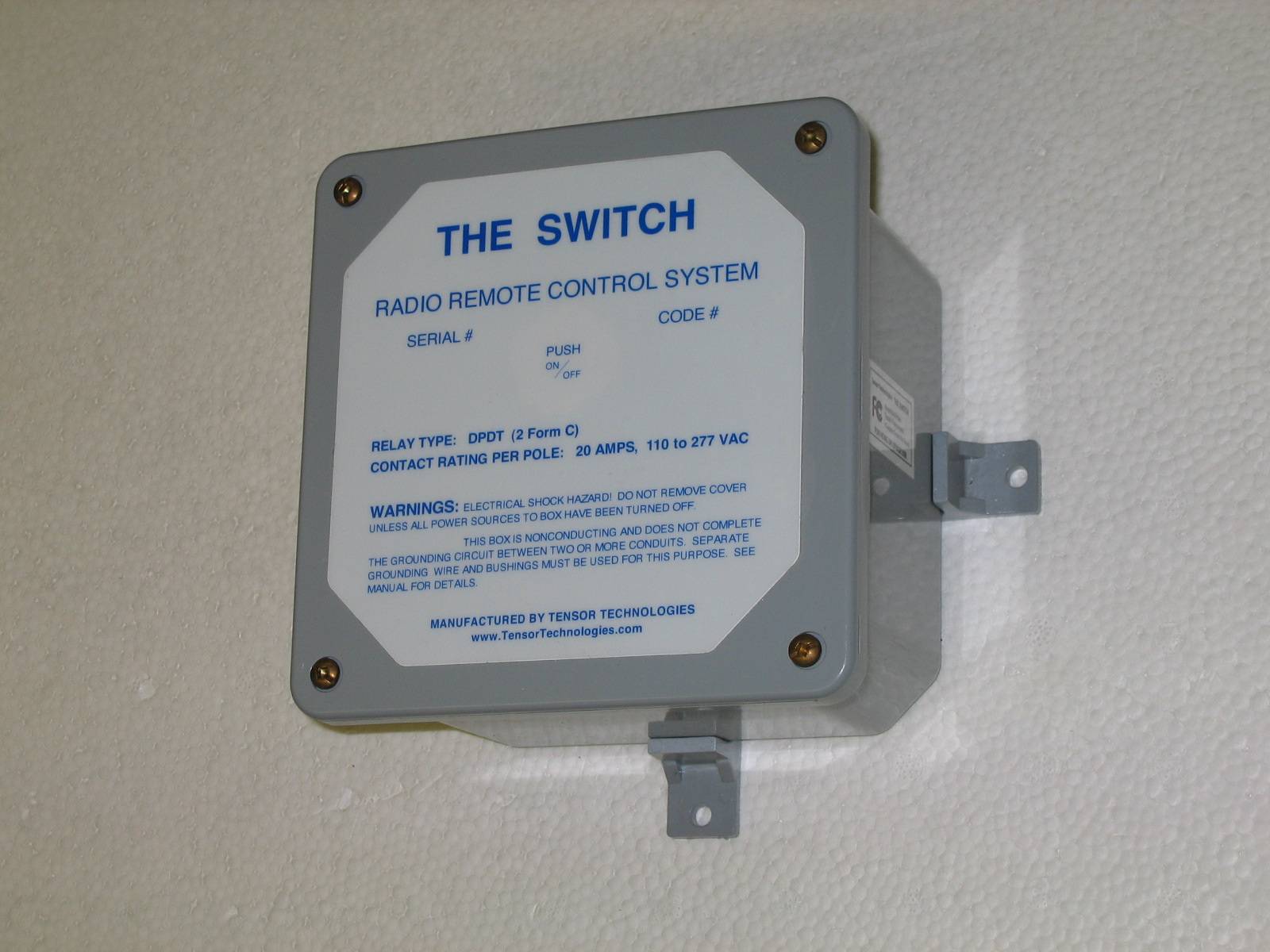 Click on picture for larger view.
APPLICATIONS

THE SWITCH is useful in any lab which requires periodic darkness. This includes, for example, labs involved in microscopy, holography, low light level and infrared optical alignment, and precision amplitude or intensity measurements as in spectroscopy or interferometry.

The transmitters, which may be worn around the neck or kept in a pocket, allow personnel to remotely turn room lights off and on without interupting work to leave a station or bench to go to the wall switch, a trip which in the dark is unsafe for personnel and delicate equipment. THE SWITCH also reduces eystrain often caused by squinting in room light to see dim or near infrared optical beams or by trying to read or take notes in near darkness.

SPECIFICATIONS

TRANSMITTER
NUMBER OF DIFFERENT CODES: 512
RF CARRIER: 418 MHZ
OPERATING DISTANCE: ~150 FEET CONTROL BOX

CONTROL BOX
(Includes one transmitter)
RELAY: DPDT, up to 20 Amps 277 Volts per pole for general purpose
POWER REQUIREMENTS: Operates on any voltage between 100 to 300 V, consumes less than 5 Watts
ENVIRONMENT: NEMA1 AND 12 (Indoor wet or dry)
DIMENSIONS: 6"H x 6"W x 4"D, 3/4" Conduit Connections